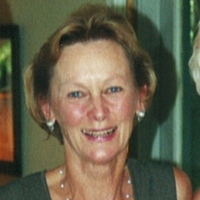 Joan White Trukenbrod, 82, of Steamboat Springs, CO, formerly of Lake Forest and Bannockburn, IL, passed away peacefully on April 28, 2023. She was predeceased by her beloved husband William "Truk" in May 2022, her parents, and her brother Steven White. Joan is survived by her son Britt (Allison) and daughter Suzy (Ryan) Stone, who were by her side as she passed, as well as her cherished grandchildren Caroline, William, Charlie, and Allie Trukenbrod; Tyler, Andrew, and Ben Stone; and her many nieces and nephews.
Joan was born in Chicago, IL, on August 20, 1940, to Edwin (Ted) and Susan (Sookie) White. The family were early settlers of Bannockburn in the 1940s. She was a graduate of North Shore Country Day School in Winnetka, Mt. Vernon College, and Colorado State Teachers College. Joan was a dedicated teacher at Avoca School and Bannockburn School, in Wilmette and Bannockburn, respectively.
Joan treasured her time with family and friends, loved to entertain, and was a consummate hostess dedicated to ensuring everyone's enjoyment and comfort. She was an avid equestrienne and lover of horses, spent countless hours in her garden, and enjoyed traveling, tennis, and golf. In later years, Bill and Joan spent much of each year between Bannockburn, Desert Mountain, AZ, and Steamboat Springs, CO.
A service for Joan will be held on June 4, at 2 pm in Deerfield at St. Gregory's Episcopal Church, a church co-founded by her parents. A reception will follow at Exmoor Country Club in Highland Park. In lieu of flowers, the family requests donations to St. Gregory's Episcopal Church (St Gregory's Deerfield) or the Yampa Valley Alzheimer's Association (Yampa Valley Alzheimers Walk).